How do I determine the age of a tyre?
The four-digit DOT (Department of Transportation) mark on the sidewall of the tyre corresponds to the date of manufacture.
In the example below, the DOT is 1814. This means that the tyre was manufactured in the 18th week of 2014.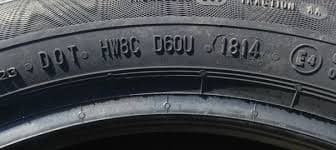 Manufacturers state that a 5-year-old tyre is considered 'new', provided that it has been properly stored.
It's only from the age of 10 years that a tyre must be replaced, even if it has never been fitted, or the treadwear indicator is untouched.